Just moved servers. So if you're seeing this, it's already done. 🙂
Getting a new domain and moving out of the "grumpyland" name was in my wish list for quite...
The migration is complete. If you see this message, it means you are connected to the new server....
Hello~ I'm offering free hosting to all scanlators~! Cuz someone suggested to me that I should. 🙂 You...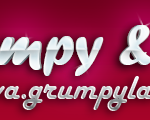 Forums have been created for Grumpy & Co.~~~! I noticed that I've started getting quite a number of...
Back to Top