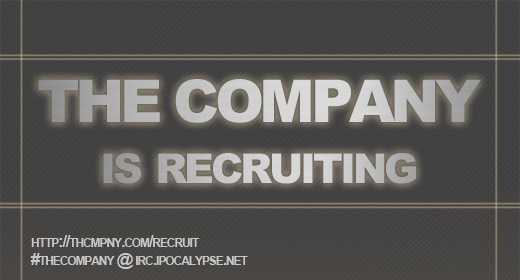 The Company Recruiting Translators
The Company is Currently Recruiting!
Typesetter [2 Positions]
We are currently NO LONGER accepting typesetter applicants.
Korean Translator [1 Position]
~~~
Banquet Box
Metronome
Space China Dress
Zippy Ziggy
And others
Do you have Photoshop or Korean language skills? Do you know someone who does? Then apply today (or drag your friends)! No experience necessary!
As an added bonus, I (Trebor) will personally meet with the new recruits and buy them free food.*
Join today!
*Offer limited to Northern NJ / NYC area.**
**Offer further limited to cute Asian females, between the ages of 20-25. Preferably rich. Bring proof of income.